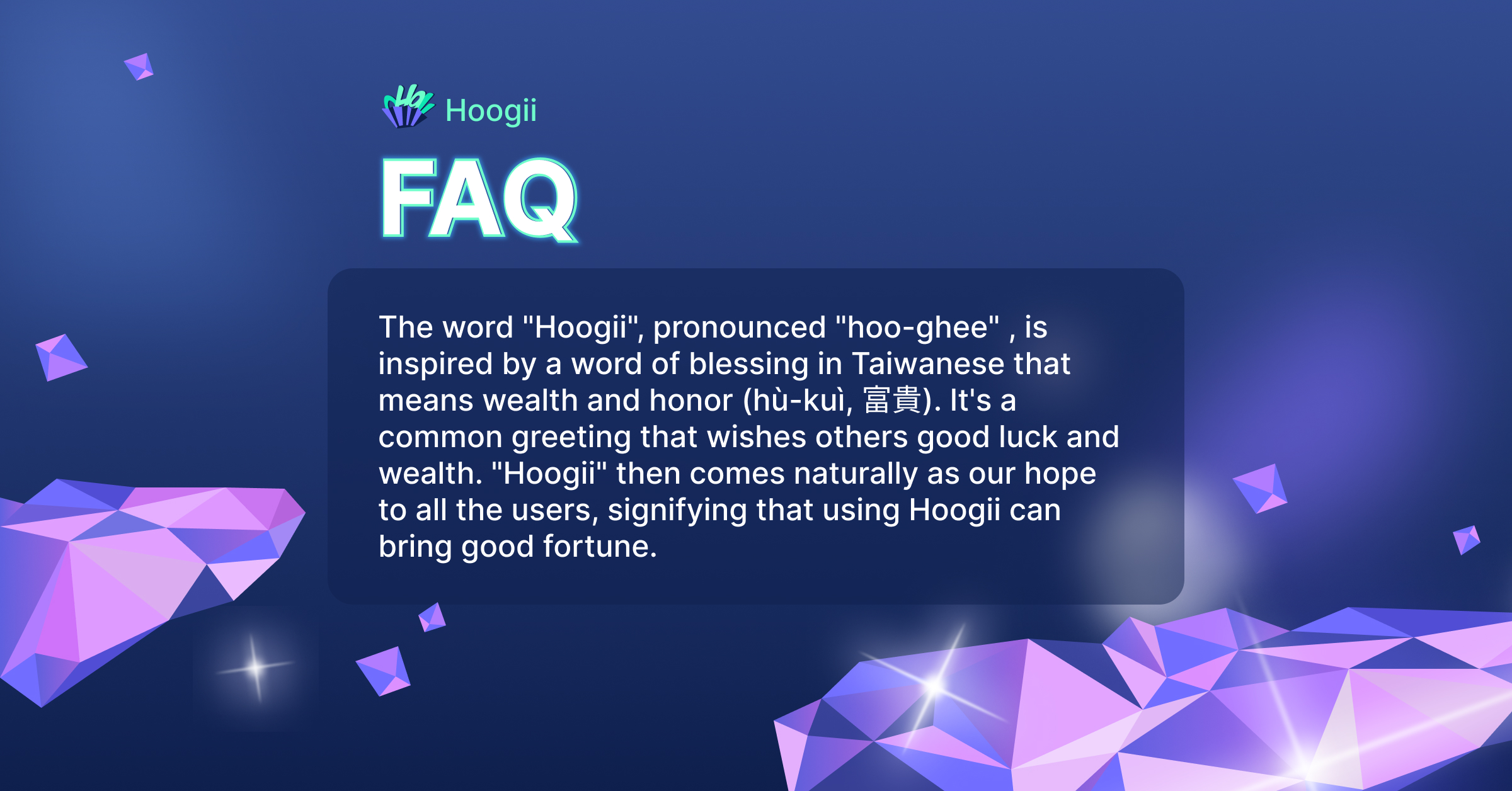 Getting Started​
How do I install Hoogii?​
Hoogii is a chrome-extension crypto wallet that can be installed on your browser.
First, please open your Google Chrome browser and perform the following process. After that, visit hoogii.app and click Install now, which will lead you directly to the chrome web store. Then you can find Add to Chrome on the page, click it to get Hoogii Wallet.
info
You can still install the extension If you're on your mobile device. Click Add to Desktop and the extension will be installed when you open Chrome on your computer (If the extension needs some permissions, tap Enable extension).
How do I set up Hoogii?​
You can simply create a new wallet or import your existing Chia wallet with the 24-word backup phrase (or, "mnemonic").
caution
Be sure to write down your backup phrase and save them to a secure place. Only you have the access to your private key. If you lose or forget the backup phrase, it can't be recovered or retrieved by Hoogii team.
What can I do with Hoogii?​
Hoogii is now officially released on Chia. We welcome all the ecosystem members to try it out and give us some feedback.
Safely Manage Your Digital Assets

With Hoogii Wallet, you can send and receive XCH/CATs with customized fees easily and safely on Chia.

Check Your Activities at a Glance

Hoogii Wallet will make sure to record all of your digital asset management history on the Chia blockchain, and you can find transaction details in your Hoogii Wallet at any time.

Effortlessly Manage Different Addresses

Set nicknames to addresses you frequently trade with to manage your digital assets on Chia in the easiest way.

Toggle Between Networks easily

With this function enabled, users are able to switch between mainnet and testnet according to your needs.

Link with dApps Directly on the Chia Blockchain

Users can trade and interact with dApps directly with Hoogii Wallet. (We will release a guiding documentation for dApps to connect with Hoogii.)

Self-Custody and Trade Your Assets with Offers (Coming Soon!)

Hoogii Wallet allows users to self-custody and trade your assets with offers enabled and incorporated.
Want to get familiar with Hoogii?​
Check out our first Blog post: Introducing Hoogii: Your Browser-Native Wallet in Chia Network, or join us on our social media (Discord) to get more information!
What feature does Hoogii support?​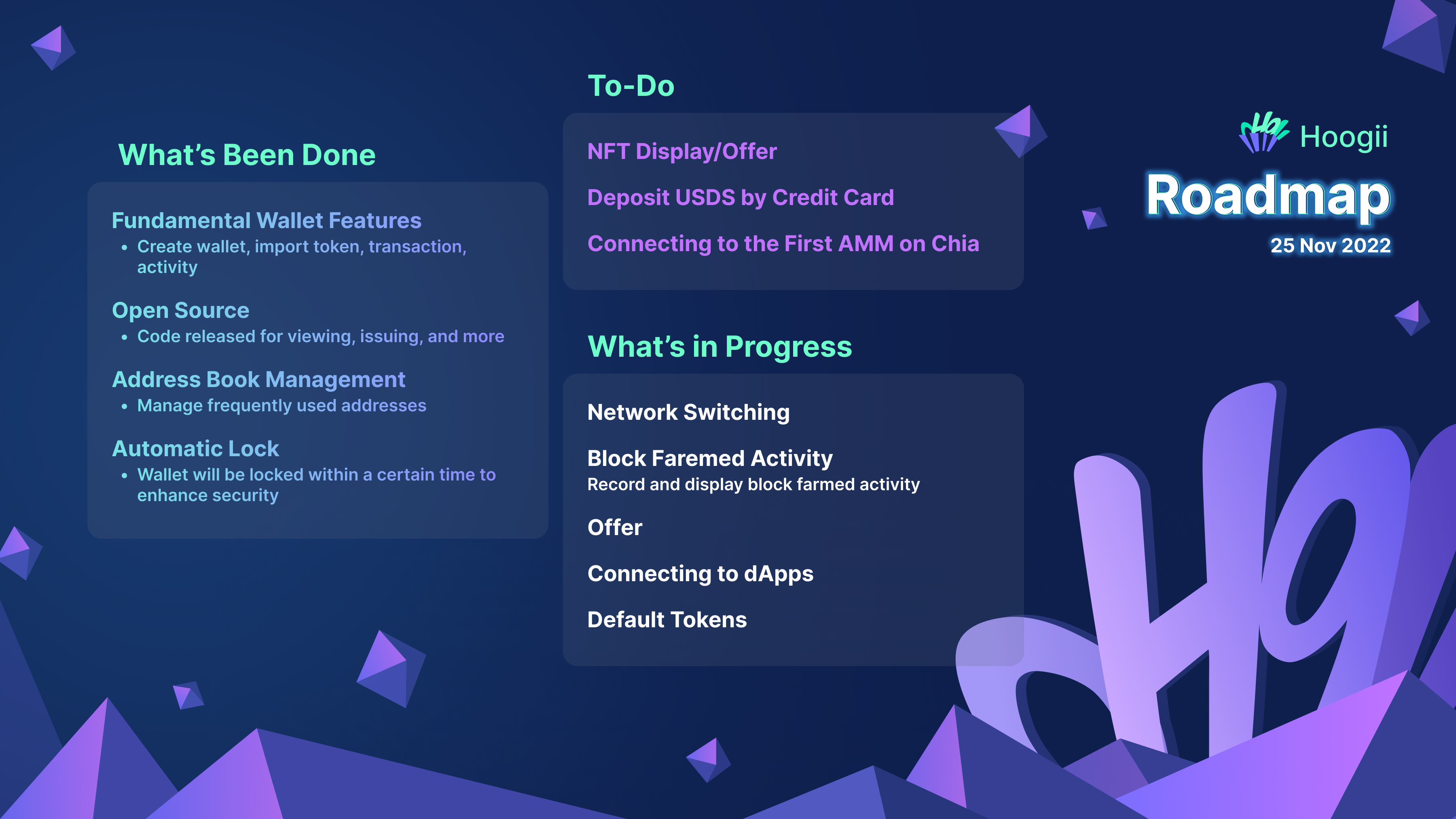 Is Hoogii Wallet open-source?​
Yes, Hoogii Wallet is a fully open-source wallet on the Chia Blockchain. Open source is one of our promises to all the users and developers. Anyone can review how the code works and we can learn from each others, creating a positive impact in the Chia ecosystem. For more information, please visit our GitHub.
Why Hoogii Wallet?​
As stated here, the Hoogii Team is committed to provide a safe and integrated DeFi experience for users to manage their digital assets.
Aims and features developed:
Smooth DeFi experience
Easy-to-use UI/UX
Open source and security
Block farmed activities
dApp connection
Buy $USDS stablecoin directly via Stably Ramp.
Features incoming:
AMM integration
NFT display and offer
Deposit assets by credit card
Browser notifications
Need Troubleshooting​
Can't find the answer to your question?​
If you have a personal issue with your wallet or encounter problems when you are transacting with Hoogii, you can proceed to Discord #support-ticket Channel to submit your problems. There will be a 1:1 support ready to help you solve your issue.
If you find a bug in the wallet, please submit a bug report in Discord #bug-report Channel.
How do I give feedback to the Hoogii team?​
We appreciate your valuable feedback and are eager to improve the user experience of Hoogii Wallet. Feel free to send us your ideas and feedback in Discord #suggestion Channel.
I would like to collaborate with the Hoogii team​
It's always a pleasure to meet new faces. Please feel free to reach out to us with the basic information about your project through this email: [email protected]